(c) RebelPawz Maine Coons 2022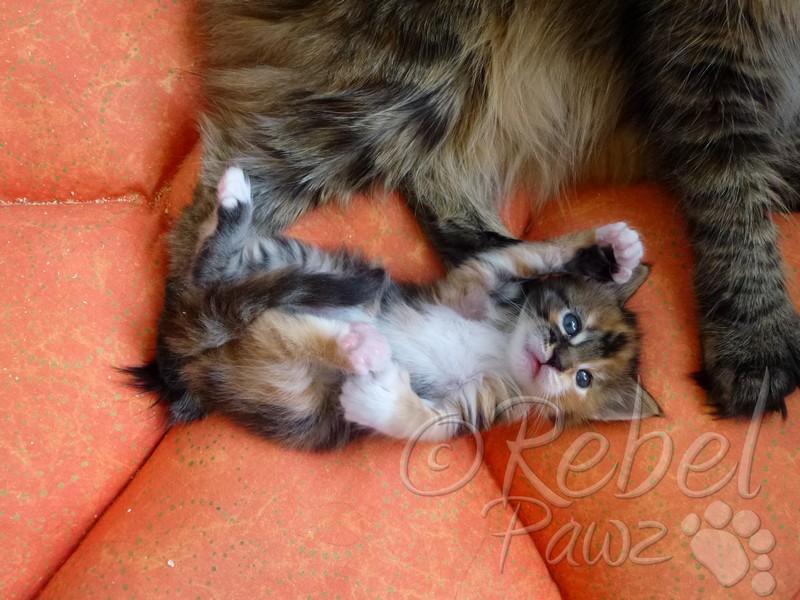 Buying a Maine Coon Kitten
We get a lot of enquiries, please be patient. Please feel free to email us through the contact form (general enquiry if you have a question or kitten enquiry form if you want to go onto our waiting list) or ring us. Our details can be found on the contact page. Pricing and inclusions can be found at the bottom of this page.
What to look for when buying a Kitten
When you buy a kitten, you are adding a member to you family (and you are adding the RebelPawz whanau (family) as well)-one that will hopefully be with you for many many years. Although it might sound clinical, you should be doing all you can to ensure that the kitten you select will be what you want and not cause you any heartbreak by becoming ill or dying from preventable problems.
Ask if the parents of the kittens have been tested and at what age. Breeders need to test their breeding cats regularly for HCM. One test does not mean the cat has a good heart, things can change over time.
Don't be afraid to ask to see documents that prove the cats have been tested. Ask if there have been any adverse test results in the background of the kitten; parents, grandparents, siblings. Don't just take it on face value if you are told that 'we test for health problems', get specific, ask which problems, and what the results were. Don't assume that because a website discusses health testing that it means the cats are actually tested.
If you are looking at other breeders ask what diseases are found in the breed. Be wary if the answer is 'none'. Ask other breeders and do research on the internet. There are often email or Facebook groups you can join to learn more about various breeds.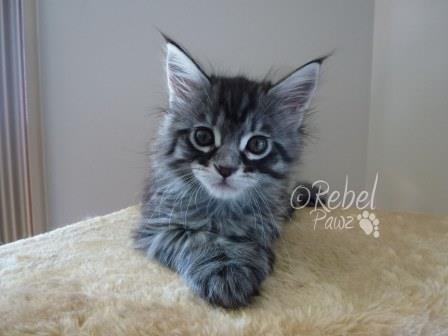 Things you should consider
The breed characteristics

The health of the cat

The individual personality

The training of the cat

Gurarantees of health

The breeder
1 Breed characteristics
You can read all about the characteristics of Maine Coons on the breed info page
2 Health
A very important consideration is the health of your kitten. See the health testing page for more details.
2a Hereditary diseases
Every breed of cat, even the domestic moggy has some hereditary disease associated with it. Before buying a Maine Coon kitten, you should ask whether the cattery tests for diseases know to be in some Maine Coon lines. Most Maine Coon breeders test for Hypertrophic Cardiomyopahty (HCM) via ultrasound and Hip Dysplasia (HD) via x-ray. Some breeders do additional testing for Polycystic Kidney Disease (PKD) which is not thought to be a problem in Maine Coons.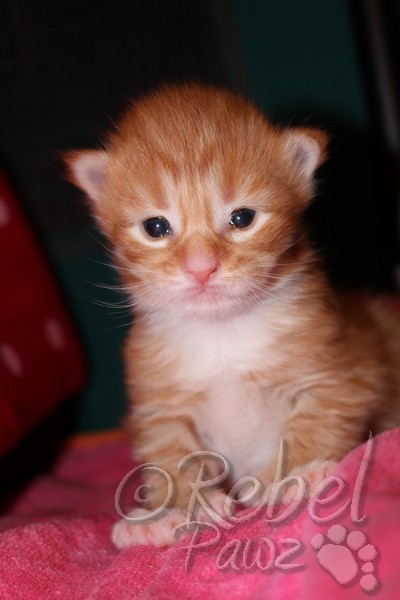 2b Acquired diseases
Feline AIDS and Feline Leukaemia are fatal diseases that can be passed to kittens via the mother. Ask if the catter is clear of these easly tested diseases. Most breeders will test for these. Ask if there has been any outbreaks of uppper respiratory diseases such as Herpes, Calici or Chlamydia. These cause runny eyes, sneesing and congestion and can affect the kittens long term health.
Corona virus is a virus found in up to 97% of breeding catteries and most rescue shelters. Corona virus is not fatal, but in 5-10% of kittens exposed to the virus it mutates to the fatal, untreatable disease FIP - Feline Infectious Peritonitis. Very very few catteries are Corona free, and although we are very stringent in our cleaning regime and about who we allow into our home environment, we cannot say we are 100% Corona free.
Giardia and Tritrichomonas are parasites commonly found in groups of animals and can be transmittted to humans. Kittens infected with these parasites in the critical early weeks of life can in the future develop untreatable, chronic sensitve stomach and irritable bowel.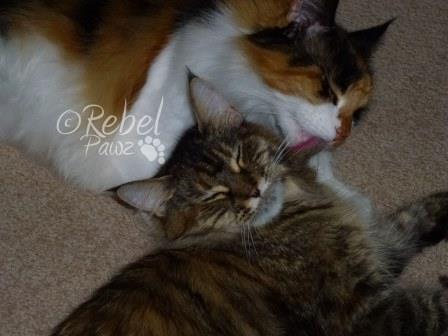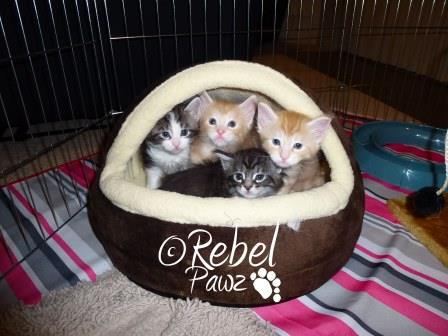 3 Individual personality

Within a breed individuals have different personalities. When you visit the kittens you can get an idea of which kitten may suit you, but sometimes kittens are overwhelmed at first by strangers. Take the breeders advice. An ethical breeder will try to make sure you get the right kitten for you and your family. See if the breeder has a kitten purchase contract and if they will allow you to return the kitten if you find you don't get on with it. A shy kitten can blossom around people, once it gets to know and trust them. Don't forget going to a forever home is a big step for a little kitten, who all of a sudden doesn't have its brothers and sisters and mummy around them any more.
4 Training

The kitten should be litter box trained before it goes to its forever home. Try to make sure you buy from a cattery that raises the kittens in the home, rather than in an outside run or cage. House reared kittens usually make much more sociable and loving pets.

5 Health Guarantee
Kittens should be sold with kitten purchase contracts, so you can see what the breeder guarantees. Some breeders will pay a part of vet bills with a time frame after purchase and refund or replace the kitten under certain circumstances. Read carefully to know what you are covered for. If there is no contract ask for health guarantees to be written down and signed and dated. A kitten purchase contract is a good thing, for both kitten buyer and breeder, as you know where you stand, and it tells you that the breeder cares for what happens to the kittens they are homing.
6 The Breeder

You will get a feel for the breeder when you communicate with them. Whether they care about the kittens or whether they just want to make a sale. Look for things like the type of food they feed their cats, what their contract covers, how they communicate with you, as well as what testing they do. A good breeder will show their cats to ensure they are breeding within the breed standard. Even if it doesn't worry you, if your kitten is show quality or not, the breeder should have knowledge of what makes up a true type Maine Coon. Visit if you can and ask to see all the cats, not just the kittens. Do they look healthy and well cared for and happy? Are they kept caged in poor conditions? Do they seem lethargic or have obvious signs of illness such as runny eyes or diarrhea?
Good luck with the search for the perfect kitten! Remember cats are not disposable items, they are a life time commitment, easily up to 15 years. When you buy a kitten it is your responsibility for the rest of its life. Choose carefully now and be prepared to wait for the right kitten for you, don't rush.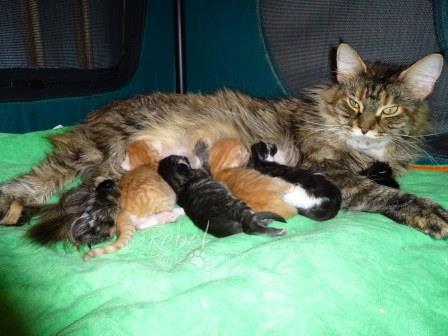 Pricing of RebelPawz Maine Coon kittens
Kitten cost: $2,400

This price includes:
Vaccinations x2

Flea treatment

Worming

Micro-chipping

Vet Checks

De-sexing

Pedigree Certificate

Registration with New Zealand Cat Fancy and/or CatzInc and transfer of ownership to new owner

Comprehensive start up pack consisting of kitten food, sample litter, toys, blanket etc

Royal Canin kitten pack and exclusive access to Royal Canin offers

Purina ProPlan kitten pack and exclusive offers.

Kitten notes booklet

4 week health insurance starter with PD Pet Insurance, and 3 months free if you sign up with them.

Health guarantee as outlined in the kitten purchase contract

We are more than happy to help with purchases (at very favourable rates) of litter trays (we have a supply), kitty litter, transport cages (we have a Maine Coon sized supply), Royal Canin biscuits, Purina ProPlan biscuits, beds, toys etc. We have the cages and litter trays on site. Just ask and we can chat about it.
We are happy to help with feeding suggestions or any ongoing problems there may be. Our cats and kittens are fed a mixture of raw food (mince and our own minced chicken frame mix, see more details about this on our other info page) and Royal Canin Maine Coon biscuits, Purina Pro-Plan and in the case of kittens Royal Canin kitten biscuits.
We are located in rural Okahune on the Central Plateau, Central North Island, New Zealand, so buyers outside of this area may want to travel to pick them up or we can arrange for them to be shipped to buyers at their cost or at times delivered (for a small fee). Please contact us or Air New Zealand for a price for pet transport. We are happy to organise shipping and we are also able to organise a suitable air freight compatible cage at cost.
Occasionally we will be retiring breeding cats, who will be available to thoroughly vetted forever homes, upon special application only. We care deeply for the welfare of our cats and want them to be perfectly suited to a forever home before we let them get adopted.
We do not accept deposits until a kitten has been decided on. Once a kitten has been settled on, a deposit of $500 is required, with the remainder payable upon pickup or before transport.
Terms of Trade
We do NOT sell to homes on busy roads, and we give preference to owners who will leave their kittens be INSIDE cats ONLY or have or will construct a catio or other outside safe area for the kitten/cat to enjoy the outdoors.



No legally binding or enforceable contract of sale arises until the seller and the purchaser have each entered into and executed a written sale and purchase contract, that specifically identifies the kitten to be purchased by microchip number, date of birth, physical appearance and sex.




Up to the time the written sale and purchase contract is executed by the parties, the seller reserves all rights to refuse to proceed with the sale of any kitten without provision of any explanation.
Prior to entering into the written sale and purchase contract, prospective buyers may be required to pay a reservation fee. Payment of this fee does not give rise to any legally enforceable rights regarding acquisition of a kitten. The fee does no more than to assure the prospective buyer a place on the sellers list of potential buyers.